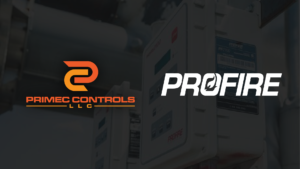 November 1, 2022 – For Immediate Release
PRIMEC Controls is excited to announce that we have entered into a partnership with Profire Energy, as a Preferred Service Partner for North Dakota and Eastern Montana.
"Partnering with Profire Energy as a Preferred Service Provider is the perfect fit for us" PRIMEC Controls COO, Kris Redka explained. "Partnerships like this allow us to better serve our clients in the Bakken Area, with industry leading product offerings."
Profire Energy is a leading provider of Burner and Combustion Management Systems and Solutions serving various industrial markets including the petroleum industry.
As a Preferred Service Partner, PRIMEC Controls' technicians are fully trained to install, commission, and service Profire solutions on your heated appliances. With their reputation preceding them, we here at PRIMEC Controls are looking forward to working with Profire to reduce emissions and improve operational efficiencies on burner systems in the Bakken Area.
To learn more about PRIMEC Controls, and how we can improve your operation, contact Kris Redka at (701) 774-2156 or krisredka@primeccontrols.com. You can also find us on Facebook & LinkedIn, or www.primeccontrols.com.